August 6, 2018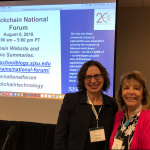 The IMLS-funded Blockchain National Forum event was held in San Jose, CA on Monday, August 6, 2018. The format for this live-streamed event included panel presentations and discussions from notable experts in the information professions, business, government, and urban planning. They focused on suggested blockchain applications that might be employed by libraries and archives. The day's proceedings were live-streamed and participants had the opportunity to submit questions and comments.
The goal of this forum sponsored the SJSU School of Information and a grant from IMLS was to discuss and make recommendations about the future uses of blockchain technology within the information professions. The results of the forum are the basis for a White Paper that will be submitted to IMLS and distributed to the information communities.
This project is made possible by a grant from the U.S. Institute of Museum and Library Services – LG-98-17-0209-17. The views, findings, conclusions or recommendations expressed in this website do not necessarily represent those of the Institute of Museum and Library Services.
In preparation for the National Forum the participants prepared Executive Summaries on possible blockchain applications and considerations for the information professions.
National Forum Schedule
August 6, 2018
Topics: Urban Planning/Smart Cities; Enhanced Metadata; Standards; Legal Issues; Community-based Collections; Civic Data; Partnerships; Credentials; Provenance
9:00 – 9:55 Overview: Possibilities and Issues Panel Presentation and Discussion
Moderator: Miguel Figueroa
Panelists: Jason Griffey, Dan Blackaby, John Bracken, Bohyun Kim
10:00 – 10:55 Public Libraries: Panel Presentation and Discussion
Moderator: Annie Norman
Panelists: M. Ryan Hess, Chris Martin, Toby Greenwalt
10:55 – 11:15 Break
11:15 – 12:10 Academic Libraries: Panel Presentation and Discussion
Moderator: Frank Cervone
Panelists: MacKenzie Smith, Alexandra Lederman, Tim Thompson, Eli Edwards
12:15 – 1:15 Lunch
1:20 – 2:00 Partnerships: Panel Presentation and Discussion
Moderator: Andrew Pace
Panelists: Nader Afzalan, Todd Carpenter, May Chang, Alex Voto
2:05 – 2:50 Additional Applications of Blockchain Technology (Credentialing, Community-based Collections, Blockchain Education, Provenance, Civic Data, Archives/Record Keeping) Panel Presentation and Discussion
Moderator: Jason Griffey
Panelists: Amy Jiang, Link Swanson, Darra Hofman, Yao Zhang
2:50 – 3:10 Break
3:15 – 4:00 Round Table Discussions to Finalize Recommendations
4:00 – 5:00 Recommendations and Discussion
Moderator: Jason Griffey and Miguel Figueroa
National Forum Participants
| | | |
| --- | --- | --- |
| Last Name | First Name | Institution |
| Afzalan | Nader | Urban Footprint/American Planning Association Technology Division Director |
| Alman | Sue | SJSU Faculty – Co-PI |
| Blackaby | Dan | Cornell University School of Law |
| Bracken | John | Executive Director Digital Public Library of America (DPLA) |
| Carpenter | Todd | Executive Director National Information Standards Organization (NISO) |
| Cervone | Frank | Director of Information Technology, School of Public Health at the University of Illinois at Chicago |
| Chang | May | Library Chief Technology Officer, University of Cincinnati |
| Coward | Caroline | NASA Jet Propulsion Laboratory |
| Edwards | Eli | Emerging Technologies Research Librarian Santa Clara University School of Law |
| Figueroa | Miguel | Executive Director American Library Association Center for the Future of Libraries |
| Greenwalt | Toby | Director, Digital Strategy & Technology Integration Carnegie Library of Pittsburgh |
| Griffey | Jason | Fellow, Berkman Klein Center for Internet & Society, Harvard University, Founder: Evenly Distributed |
| Hess | M Ryan | Palo Alto City Library, Library Services Manager for Digital Initiatives |
| Hirsh | Sandy | Director, SJSU School of Information and Co-PI |
| Hofman | Darra | University of British Columbia, JD, MSLS, current doctoral student focusing on blockchain with patient rights and archives |
| Jiang | Amy | University of La Verne, Associate Professor and Library Technology Coordinator |
| Kim | Bohyun | President, ALA LITA (Library Information Technology Association) and University of Rhode Island Chief Technology Officer and Associate Professor |
| Lederman | Alexandra | The New School, Digital Asset Manager |
| Martin | Chris | King County Library System PC Services Manager |
| Norman | Annie | Delaware State Librarian |
| Norton | Robert | CEO and Founder Verisart |
| Pace | Andrew | OCLC Executive Director, Technical Research |
| Smith | MacKenzie | UC Davis, University Librarian and Vice Provost of Digital Scholarship |
| Swanson | Link | University of Minnesota, Systems Engineer and Developer |
| Thompson | Timothy | Yale University, Discovery Metadata Librarian |
| Voto | Alex | ConsenSys, West Coast Regional Director |
| Zhang | Yao | Kent State University, Postdoctoral Research Scholar |